NEW ALBUM - OUT 30th June 2017.
Welsh singer-songwriter Christopher Rees returns with his long awaited new album, 'The Nashville Songs' on 30th June 2017 - an inspired collection of songs co-written with some of 'Music City's finest writers.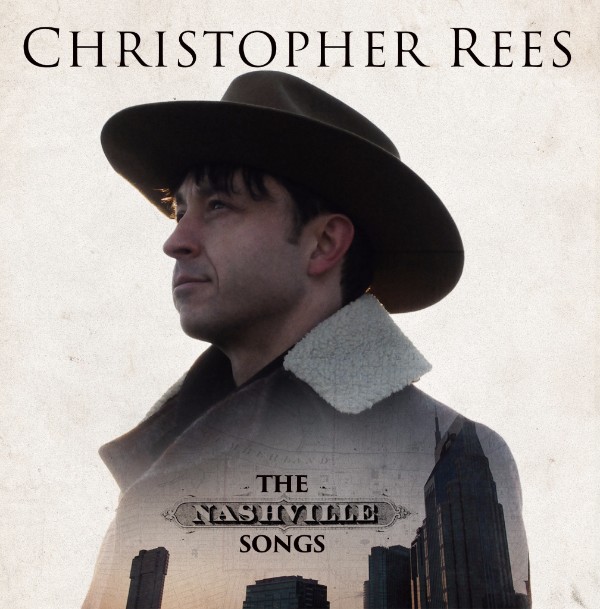 Over 4 years since the critically acclaimed 2013 album 'Stand Fast', 'The Nashville Songs' displays a real maturity towards his craft while maintaining his individual sound and style. After first stepping onto the legendary Music Row back in 2009 Rees continued to make annual visits to Nashville to write and soon accumulated a healthy batch of songs that would became this his 7th full length album.
As a singer-songwriter who has toured with and earned the respect of 'Country Outlaw' legends like Steve Earle and Billy Joe Shaver, (who, actually inspired the song 'A Place Upon My Face') Christopher Rees has always written alone, finding his own distinct voice and path through music. The initial collaborative experience, although new and somewhat daunting, was exciting and immediately rewarding. Working with a diverse range of Nashville based writers, Rick Brantley, Mando Saenz, Amy Speace, Vida Wakeman and Sandy Cherryholmes (who's CVs boast some serious country credentials, including songs for big hitters Miranda Lambert, LeAnne Womack, John Fullbright and regular favourites at The Grand Old Opry) the results were proof positive that the process was working.
While the raw work-tapes did the rounds, Rees was determined to develop the songs further, put his stamp on them and ensure that they see the light of day on a full album release of his own.
The album accommodates a wide range of styles from vintage old time country (The Unfamiliar Road, Forget To Regret), featuring the Pedal Steel Guitar of Canadian virtuoso Aaron Goldstein (Daniel Romano, City And Colour), to upbeat Rockabilly twang (Dance With Desire), featuring Welsh guitar hero John Lewis. Dark Appalachian clawhammer banjo, rustic bluegrass and stripped back acoustic storytelling are also employed to serve the songs. Lyrically, the recurring themes of life and death, sin and salvation, hope and despair are further explored with philosophical depth.
Recorded back home in Wales with drummer Dan Tilbury (Redlands Palomino Company), Rees plays almost everything else on perhaps his most accomplished album to date. Informed by the inspiration he found in Nashville with its rich history of country and folk music, the 14 songs assembled here provide a coherent insight into his dynamic, passionate and profound talents.