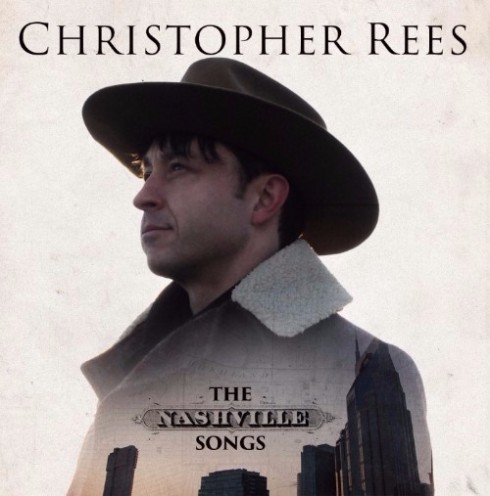 The Nashville Songs (2017)
Watch this space ...
"Offers a rich stylistic spread of Rees' talents, topped by the ringing authority of his voice" (UNCUT)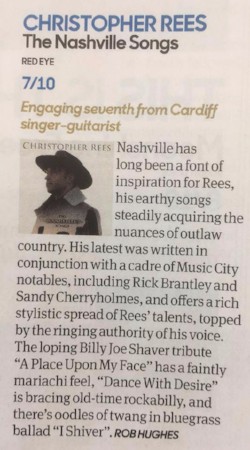 "Impressive takes on classic old-timey country. Tender songs of consolation and optimism he always does so well." (R2 Magazine)

"This album oozes confidence; the songs are the real deal and his singing has never been stronger. A career best". (New Sound Wales) http://www.newsoundwales.com/cd-reviews/christopher-rees-the-nashville-songs/

"Rees is an artist whose compulsion to make music as a necessary expression and fundamental need is evident. There is little doubt that the path of any independent artist is not a particularly easy one, but when the results are as good as this is, then it is one that needs to be encouraged and applauded. Long may he continue to do what he does so well. (Lonesome Highway) http://lonesomehighway.com/music-reviews/2017/5/3/reviews-by-stephen-rapid.htmll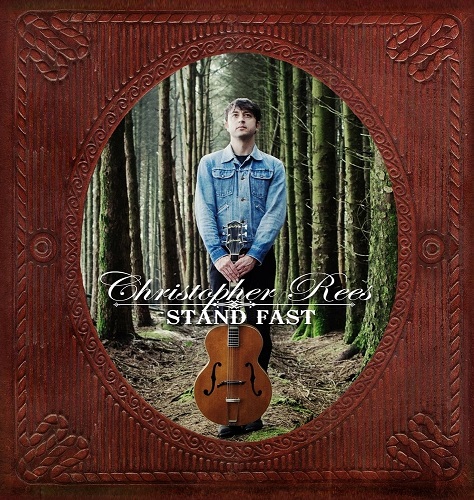 Stand Fast (2013)
"Primal, febrile rock'n'roll. Righteous delivery". (Q Magazine)
"A spit and sawdust holler that's as close to a Southern hell-fire preacher as you can get hailing from Cardiff. Very, very good". (MOJO)
"Awash with the dusty wanderings, misunderstood loners and strengths in the face of adversity so common to the country spirit. Flavoured with the spice of Tom Waits-esque whiskey wisdom. Feisty and wilful". (BBC Music)
"Stand Fast finds him in a place of defiant poise and sturdy resolution. Rees has made his most complete testament to date". (Shindig Magazine)
"Welsh singer-songwriter Christopher Rees' work is strong and evocative. A superb production. Sharp and punchy (touched with a little hell-fire akin to Southern devil's blues), for this alone he earns the right to stand at top of the highest building and shout out his own praise. Once heard you will want to join him!" (Americana-UK.com)
"There is certainly a talent and experience here with a passionate voice to go with the clever lyrics. Rees is dynamic and steadfast". (Blues Matters Magazine)
"Among the best he has committed to public scrutiny. Dark, thoughtful songs of understanding and undeniable humanity. Rees is a striking solo performer. Stand Fast is staking its place to be heard and understood for the powerful piece of music it is". (Lonesomehighway.com)
"Excellent". (Bob Harris – BBC Radio 2)
"With distinct, trademark notes being bended from banjos and Gretsch guitars, a unique style recognisable from the outset". (BUZZ Magazine)

To read an interview with Christopher Rees on Lonesomehighway.com click 'HERE'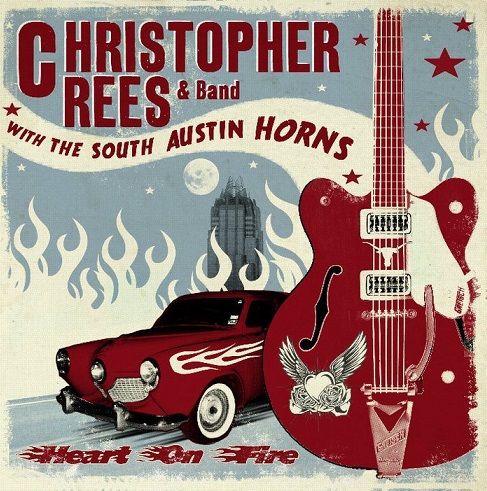 Heart On Fire (2011)
"I love this record...I think it's absolutely terrific". (Bob Harris - BBC Radio 2)
"Fine old-school country soul...The South Austin Horns provide shades of Muscle Shoals". (UNCUT)
"Startlingly confident country soul". (BBC.CO.UK/MUSIC)
"A soul-drenched album that smacks of the vintage Stax". (Maverick)

"Christopher Rees has shown a masterful understanding and empathy with the music of the American South. Crossing with ease between the sounds of Memphis and Sun Studios, the more primal songs of Appalachia and the country-blues, his is an entirely genuine sensibility, utterly untouched by pastiche. He also happens to possess one of the very few voices that can sustain a comparison to Jeff Buckley's. From the first moments of the opening title track, the warm and tender feeling is overwhelming. As perfect a summation of life's joy as you could wish for". (R2 Magazine. Rock'n'Reel)
"It's really good. There's a strong element of Memphis soul about it. I can picture Otis singing something like that".
(Ralph McLean – BBC Radio Ulster)
"Authentic and powerful. A fascinating and fulfilling journey of musical discovery". (NewSoundWales)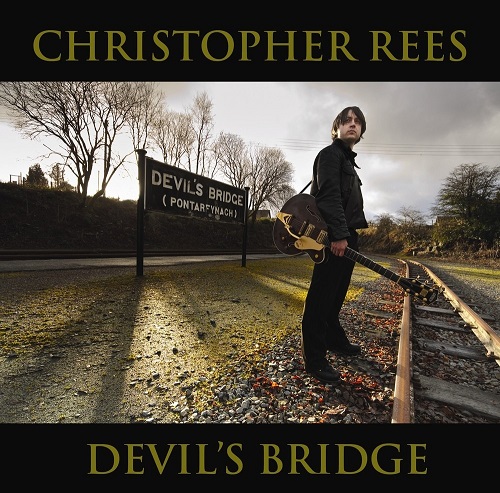 Devil's Bridge (2009)
"Boasting a delicious 50's twang...an increasingly accomplished songwriter in full flight". (Phil Alexander, Editor-in-chief. MOJO)
"Christopher Rees has honed his narrative chops to fine effect. All splash echo and rockabilly riffs...he makes room for fat dollops of bluegrass, country and rustic folk, including a stomping banjo straight from the Blue Ridge Mountains". UNCUT ****
"Bluesy folk tales of murder...dipping into the worlds of Americana and even rockabilly. By far his best to date". Q MAGAZINE
"A spit and sawdust holler that's as close to a Southern hell-fire preacher as you can get hailing from Cardiff. Replete with machine gun snare fills and razor sharp guitar lines...rattles out of the traps like it was cut at Sun Studios in 1956. Very, very good". (MOJO)

"Gothic tales and country shake-downs from one helluva singer. A volumous force of nature. This is Rees at his peak, fully fried and giving it every ounce of grit and passion". MAVERICK MAGAZINE
"Shudders between the primal loneliness of an Appalachian holler and an exuberant Bo Diddley shuffle". ROCK'N'REEL
"His home is in the Welsh hills but his heart is definitely in Tennessee. He transcends the boundaries. A heart aching gem". ARTROCKER MAGAZINE
"A rugged individualist...and distinctive musician. His warm voice, intelligent compositions and frequent journeys to the dark side should appeal to all those who appreciate intelligent Americana". (BLUES MATTERS)
"Chilling tales of woe, passion and hope played out under a swelling Americana sky and delivered with a desert blues voice picked up somewhere on a windy, lonesome highway". (THE MIRROR) s-murderously-happy-2114889

Cautionary Tales (2007)
"Full of simmering soul". (MOJO Editor in Chief Phil Alexander)

"A genuinely roots affair that moves through songs of death and danger to wonderfully tender and totally melodic ballads that seem to hang on the most fragile of backdrops. A release that reveals more of itself each time it is reprised. Cautionary Tales deserves to be admired". (Fred Dellar – MOJO)

"A banjo-playing, story-telling troubadour whose brand of Americana sits somewhere between the backwoods debauchery of Willard Grant Conspiracy and the vocal confidences and melodic understanding of Ryan Adams. Rees has delivered a mighty fine record. There is a bit of everything here for the discerning roots fan. Cautionary Tales is an excellent offering". (AMERICANA UK)
"The award winning Welsh songwriter's third album is sure to get the critics excited, yet again, with some of the best songs he's recorded to date. Helped out by the fairer sex on many of the tracks, his CAUTIONARY TALES veer from murder ballads to classy ballads, with dark roots rock and angsty Appalachian folk strewn in between. Rees has a voice that brims with powerful emotions, and when combined with soft petal-like tones of Victoria Williams (Bottom Dollar) or the sweet chimes of the Hot Puppies' Becky Newman (Mary Lee, It Won't Come Easy) it's like Rufus and Martha Wainwright have converted to the church of country blues". (MAVERICK)

"A luxuriously emotional tour de force that further boasts duet vocals with none other than American country legend Victoria Williams. Passion and conviction for all his subjects is the stock in trade for this intimate writer and whether we learn by his mistakes or not, Cautionary Tales is a rich experience". (DROWNED IN SOUND)

"Soulful country and restrained banjo driven Appalachian folk and sinking in to shades of blue and Nick Cave and Tindersticks and Michael J Sheehy and Willard Grant Conspiracy and buckets with holes and comfort from the kindness of strangers. He's made another fine and rather beautiful album, he keeps doing it. (ORGAN MAGAZINE)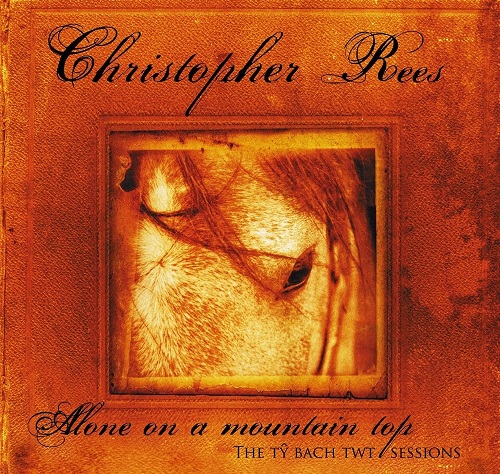 Alone On A Mountain Top (2005)
"Deliciously raw and spellbinding…A wonderful homespun triumph". (MOJO, Editor-in-Chief, Phil Alexander)
"A compelling set of vocal theatrics and spectral blues communion". (UNCUT)
"A thrilling performer who doesn't hold anything of himself back. Unflinching and venomous…
a truly incredible talent". (BIG ISSUE)

"Raw, hypnotic and at times dangerous, Rees sings as if his life depends on it". (OTTAWA EXPRESS, CANADA)
"Breathtaking and spiritually uplifting". (TORONTO SUN, CANADA)
"From the first track I was hooked. There's a lot of post-Buckley angst around these days but Christopher is completely head and shoulders above that. There's a depth to what he does and a roughness that goes with that melodic suss. To me the thing that's encouraging is that he's even better live. That and the fact that 'Alone On A Mountain Top' is actually another step along the way as he learns his craft. And when you bear in mind where he's at now, that's pretty scary". (Phil Alexander - MOJO)
"A pretty outstanding feat… If anyone sold his soul at the crossroads it was this guy right here". (MAVERICK)
"A major instrument in its own right, his fine impassioned voice can be fragile and understated and then shit-kicking and furious. As absorbing in the hearing as in its creation, 'Alone On A Mountain Top' reveals a new artist within reach of the summit".
(COMES WITH A SMILE)
"Three things radiate from this collection of songs: courage, confidence and character. In the big bad world of American-dominated, lonesome, white trash blues, the competition is fierce but Christopher Rees has never been afraid to plough his own lonely furrow and 'Alone On A Mountain Top' finds him standing tall and strong, with the likes of Johnny Cash, Jack White and even Springsteen (c.1986 - 'Nebraska' era). All high-charged aching lyrics, wailing harmonica and guitars, it's a heartfelt, optimistic and gorgeous album that'll be hard to beat". (DROWNED IN SOUND)
"An aching, soulful and gritty album". (UNDERRATED MAGAZINE - NEW YORK)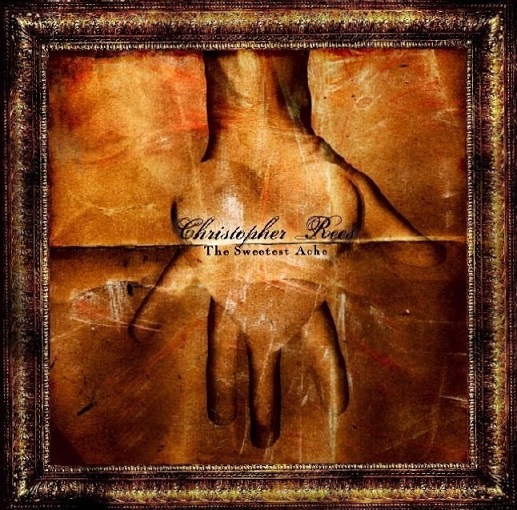 The Sweetest Ache (2004)

"It's not easy to achieve noise metal god status accompanied by a cello but Christopher Rees makes an awesome, bloody fist of it. Pumped up and snarling but managing to wrench beautiful tunes out of the wreckage… This is seriously amazing stuff". (NME)
"Moody and magnificent". (TIME OUT)
"An emotionally charged, world class singer songwriter". (JANICE LONG, BBC RADIO 2)
"Intense and absolutely mesmerizing". (HUW STEPHENS, BBC RADIO 1)

"String drenched lush melodies with explosive noise". (WORD)

" A record so sonically powerful and epic in proportion it should be from U2 or Radiohead-or certainly their production budget. A record so cinematic it should be marketed as a Bond film. And a record so calamitous, Starsailor, Embrace and Muse should hang their heads in shame. One of 2004's most ambitious and accomplished debuts". (MAVERICK)
" The sort of pomp and circumstance that it's ok to swoon histrionically to. The Sweetest Ache is roughly what Slint would have sounded like if they'd been opium-smoking tortured souls of the late 18th century. A Mammoth piece of musical vision". (BIG ISSUE)


"Gleefully overwrought rock'n'roll theatrics, chock full of fearlessly excellent Jeff Buckley-meets-Last-Night-At-The-Proms melodrama". (NME)


"Like Bob Mould joining Tindersticks and Godspeed You Black Emperor! in Valhalla. If only everyone had Christopher Rees' way with a bad mood". (NME )


"The first act from Cardiff's FFvinyl imprint to really make your jaw drop. Frankly it makes many of todays over reverent Buckley clones sound rather wanting. A complete debut and a quite staggering feat". (SOUND NATION)


"Could he be the bastard child of David Lynch favourite Angelo Badalamenti and musical misfit Tori Amos? These are seriously accomplished songs of a celestial nature, full of fired up ferocity and thundering strings". (BIG ISSUE)


"Surrounded by up to fifteen musicians, nestling anything from soprano sax, trumpet, string quartet and a 'massacred piano', it's evident that something different is about to happen. At times like this, I'm left thinking why the fuck do I put up with all the mediocrity that boasts of thrills and excitement but always fades away with the dawn? This puts so much out there to shame". (DROWNED IN SOUND)


"Christopher Rees is probably the only person in the musical world to end a set with a viola-trashing frenzy. Something the London Symphony Orchestra could do well to bear in mind for the future, perhaps". (PLAYLOUDER.COM)